By Patrick Bray
DLIFLC Public Affairs
---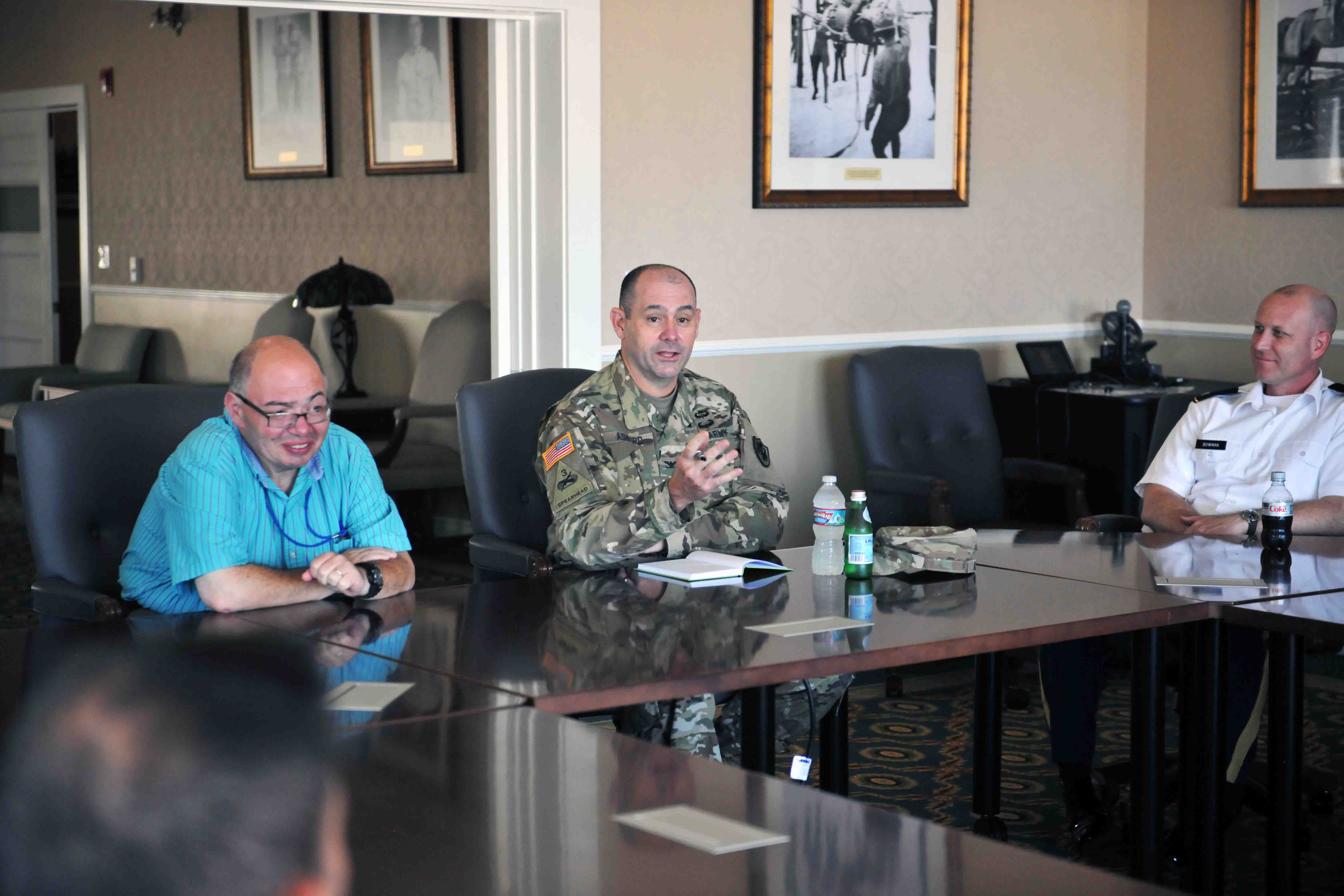 Col. Mike Ashford, director of the Defense Threat Reduction Agency Europe, spoke Sept. 8 to Foreign Area Officers in language training at the Defense Language Institute Foreign Language Center who will assume future assignments in Europe. (Photo by Patrick Bray, DLIFLC Public Affairs)
MONTEREY, Calif. – Col. Mike Ashford, director of the Defense Threat Reduction Agency Europe, spoke Sept. 8 to Foreign Area Officers in language training at the Defense Language Institute Foreign Language Center who will assume future assignments in Europe.
Ashford spoke briefly about DTRA Europe and its conventional duties concerning weapons inspection teams, which include linguists and FAOs. He also spoke about DTRA's duties under the Vienna Document, which provides openness and transparency concerning military activities conducted inside the territory of all European and Central Asian participating states.
Ashford specifically wanted to use his visit to offer encouragement to the FAOs while they are still young in their careers. He himself is a FAO, having served in Moscow and U.S. Africa Command, attended the Joint Military Attaché School in Washington, D.C., and taught at the Command and General Staff College at Fort Leavenworth, Kansas.
"I highly encourage you to get into a job with a high concentration of FAOs. That gives you a much better opportunity at promotion," said Ashford about career advancement. He spoke about the military downsizing, making it difficult for FAOs to compete for promotion due to spending time away from the service, usually at an embassy or other foreign assignment.
"But learn your profession before you try to go to the pointy end of the spear," he added, as it takes experience before FAOs will be solving serious diplomatic problems.
Being that the FAOs are currently in language classes at the institute, mostly Russian, Ashford encouraged them saying that "language proficiency as a FAO is important. It's one of the ways we set ourselves apart."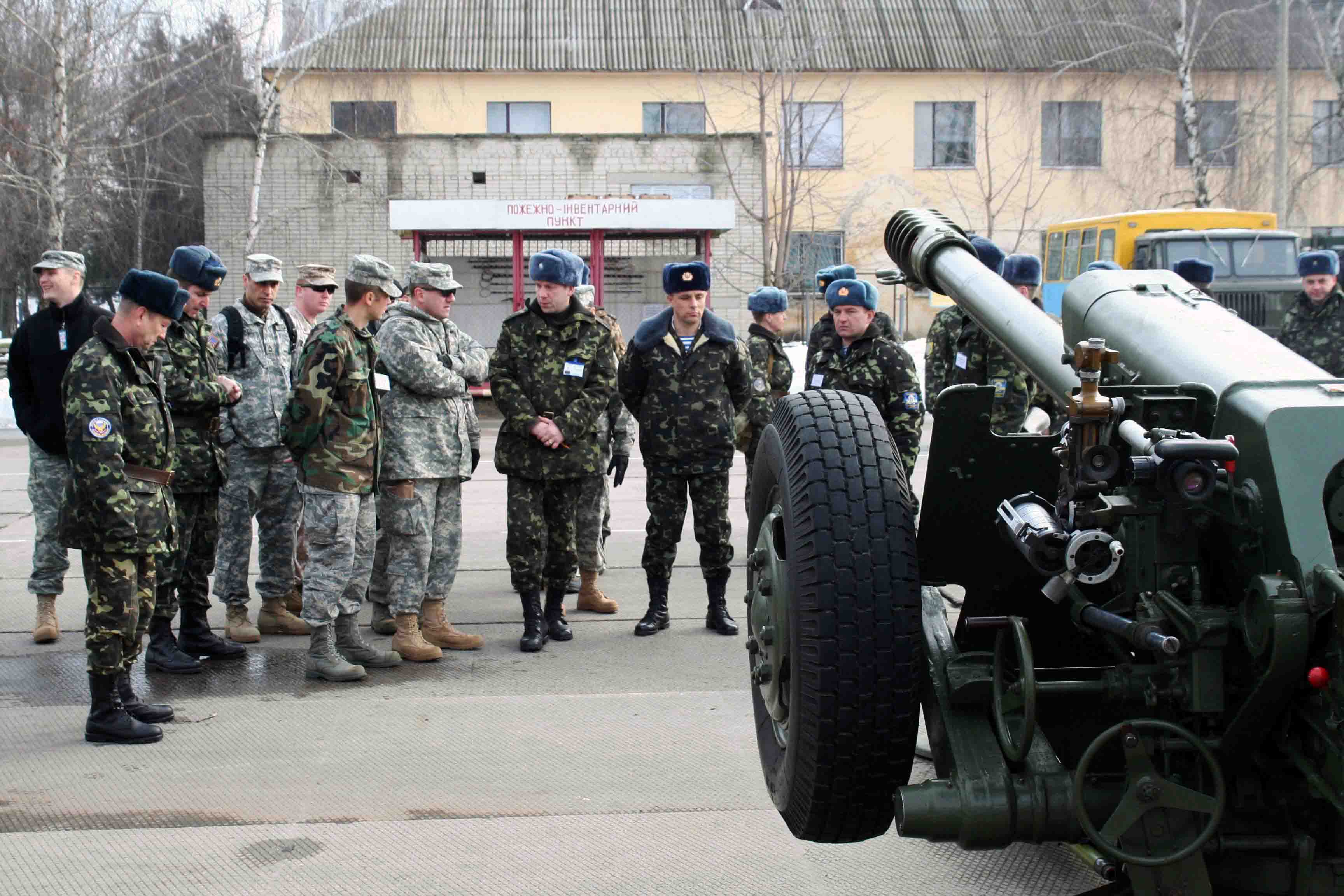 DTRA personnel inspect Ukrainian military hardware under the auspices of the Conventional Armed Forces in Europe (CFE) Treaty in March 2009. The CFE Treaty is designed to reduce the threat of a massive conventional offensive strike through the heart of Europe. (DTRA photo)
Ashford spoke as part of the Eurasian FAOs' monthly officer professional development, which is a critical part of FAO training at DLIFLC. The monthly program is as an essential addition to the biannual Joint Foreign Area Officer Course Phase I, usually held in January and June.
FAOs, who come from the four branches of the U.S. military, are regionally focused and are considered experts on political-military issues. Once their FAO training is completed, they are expected to serve as defense attachés, security cooperation officers and political-military planners worldwide.
"My job is to lead. Don't ever lose that part of your officership," Ashford reminded the FAOs adding that leadership is the foundation of any officer's career.
Ashford also visited the DTRA Interpreting Course located with the Defense Language Institute Foreign Language Center's Continuing Education Directorate at the DOD Center Monterey Bay in Seaside, California.
The course trains Russian linguists to be interpreters. Past graduates of the course have interpreted for the secretary of defense, chairman of the Joint Chiefs of Staff and the secretary of state, among others.
Linguists with high speaking and listening skills are selected to serve DTRA and are often regarded as the best interpreters in the DOD. Some will interpret on matters related to the New Strategic Arms Reduction Treaty between the U.S. and Russia, better known as the New START Treaty.
DLIFLC provides resident instruction in 23 languages at the Presidio of Monterey, California, with the capacity to instruct another 65 languages in Washington, D.C., graduating more than 220,000 linguists since 1941.
In addition, multiple language training detachments exists at sites in the U.S., Europe, Hawaii and Korea, spanning all the U.S. geographic combatant commands in support of the total force.
---
Posted Date: 9 September 2016
FORT BELVOIR, VIRGINIA, May 16, 2017 (GLOBE NEWSWIRE) -- Michael L. Bruhn, a member of the Senior Executive Service (SES) has been named Acting Director and Executive Director of the Defense Threat Reduction Agency (DTRA) located on Ft Belvoir, Virginia.
"I'm extremely honored to be appointed as DTRA's Acting Director and Executive Director," said Bruhn. "In the dangerous world we live in today, DTRA's missions provides critical support to our warfighters and coalition partners. I look forward to working with the Agency's professionals to provide this support and help keep the world a safer place."
Bruhn will lead the Department of Defense Combat Support Agency responsible for the Counter WMD and improvised threats mission, as well as providing operational support to warfighters worldwide.
"The CWMD and CIED missions are at the tip of the spear, and critical to our national security. I am committed to continuing the outstanding support the Agency provides in these areas, and set the bar even higher.
He was previously the Executive Secretary for the Department of Defense, where he worked for the Secretary of Defense and Deputy Secretary of Defense in managing the Department of Defense and the service branches. He served in that position from April 2010 to May 2017.
DTRA's Deputy Director, RADM Jerabek said, "We are extremely lucky to have a seasoned professional like Mr. Bruhn leading our team.  He's a welcome addition to our Agency, and we look forward to the direction his leadership and experience take us in the future."
Some of Bruhn's earlier career assignments include: Director of Operations for the Under Secretary of Defense for Acquisition, Technology and Logistics, and a 23 year U.S. Army officer career with assignments including Military Assistant to the Under Secretary of Defense for Acquisition, Technology and Logistics, Staff Officer for the National Defense Panel, Program Analyst in Program Analysis and Evaluation Directorate for both the Army and the Office of the Secretary of Defense; and Associate Professor, Department of Physics, United States Military Academy, West Point.
Mr. Bruhn's educational achievements include: a Bachelor of Science from the United States Military Academy at West Point in 198, and a Master of Science in Nuclear Engineering from the University of California at Berkeley in 1988. He is Level III certified in acquisition program management under the Defense Acquisition Workforce Improvement Act and is a member of the Defense Acquisition Corps.
He was appointed to the Senior Executive Service by Secretary of Defense Donald H. Rumsfeld on January 8, 2006.
END#
DTRA is the U.S. Department of Defense's Combat Support Agency for countering weapons of mass destruction, addressing the entire spectrum of chemical, biological, radiological, nuclear and high yield explosive threats and countering improvised threats. DTRA's programs include scientific research and development, operational support to U.S. warfighters on the front line, and an expertise that spans the full WMD threat spectrum.  We work with the military services, other elements of the United States government, and partner countries to prevent acquisition, contain and reduce threats and respond to crises with a singular goal in mind: Making the World Safer.
Attachments:
A photo accompanying this announcement is available at http://www.globenewswire.com/NewsRoom/AttachmentNg/43ad35a6-7ab5-4b8c-9529-53ba0e8c68ca
Attachments:
A photo accompanying this announcement is available at http://www.globenewswire.com/NewsRoom/AttachmentNg/59d9fcbc-0259-4fa9-b398-5a325acf9251
Defense Threat Reduction Agency 703-767-5870 dtra-PA@mail.mil